Education
Life Coach
Coby Kozlowski, Souluna LC Certification, Lenox, MA, December 2010
500-hour E-RYT
Kripalu Center for Yoga and Health, Stockbridge, MA, September 2010
Anusara Inspired Yoga Teacher (300 hours)
Todd Norian & Ann Greene, Berkshires, MA, August 2006
Health & Nutrition Counselor/Coach
Institute for Integrative Nutrition, NYC, NY, June 2005
200-hour RYT
Kripalu Center for Yoga and Health, Stockbridge, MA, March 2004
Masters of Arts in Education
Pepperdine University, Malibu, CA, December 2002
Bachelors of Arts in Graphic and Web Design
University of Denver, Denver, CO, December 1999
The 6 Qualities of Consciousness
Journey into the six attributes of existence and discover how they reside in you, as you, and all around you. Celebrate profound intelligence, unbounded freedom, your perfect yet ever evolving nature, the joy of community, the promise of infinite abundance, and the natural ebb and flow of life in continual primal motion. Through our time together you will:
Gain more scope on yoga's migration to the West.

Understand the difference between yoga's diverse philosophical traditions.

Learn about the Tantra's rich heritage and varied teachings.

Immerse in the latest scientific research highlighting the physiological and psychological benefits of everyday mindfulness and practical yogic wellness techniques.

Marvel in awe inspiring life examples sourced from the natural world.

Engage in practical exercises to awaken each quality and invoke more clarity, connection, skill, and beauty on your path.
*This workshop includes interactive discussion and some light movement.
Take your yoga teaching to the next level as you embark on a journey to unearth how to teach yoga through refined language and inspirational themes. Teaching through themes not only deepens your depth as a teacher, but also engages your students in a fresh, vibrant, and inviting way. In this dynamic and heart opening workshop you will:
Nourish the teacher within through creative contemplations, thought provoking journaling, rich discussion, and small group sharing.

Learn a clear methodology to effectively plan and teach focused and heart opening yoga classes.

Awaken to the depth of Tantric Yoga philosophy, the power of nature, and the wisdom of traditional cultures.

Actively cultivate this new practice in a supportive atmosphere as you weave and fine-tune your teaching skills.

Broaden your yoga vocabulary while learning clear, concise, and charismatic language.
*This workshop includes interactive discussion, practice, and practice teaching.
In life, there comes moments were we need to suit up and show with steadfastness and determination. While the tendency for many is to either give up or burn out, yoga invites us to tap into a skillful empowerment, utilizing the strength of the body, vitality of the breath, lucidity of the mind, and courageousness of the heart.
Embark on a journey of inquiry to awaken this innate potentiality which you already possess. In this extended class you will:
Streamline your energy through a two hour long master practice—with a long savasana :)

Investigate your endurance, strength, attention, and mental edge.

Recognize the difference between sensation and pain.

Explore your resistance when challenge arises.

Source compassion and celebrate as your honor your own individual practice as it evolves.
*This workshop begins with a short discussion followed by an advanced practice.
The way we align our physical form has huge implications on the health and vitality of the body as well as the presence of our internal state. Inquire into a deeper way that anatomy, kinesiology, and individual body structures have impact on how we move. In this workshop, you'll explore:
The history of yoga postures and why we need to be asking better questions about postures.

The power of our feet to support us in setting a firm foundation.

How diverse bones structures can make a difference on how our postures look.

Why the posterior chain and particularly the glutes are important in stabilizing postures.

How range of motion can change how feel in specific yoga postures.

The current science of stretching and how myofascial release is an important part to include in any practice.
*This workshop includes interactive learning followed by an integrative all level practice.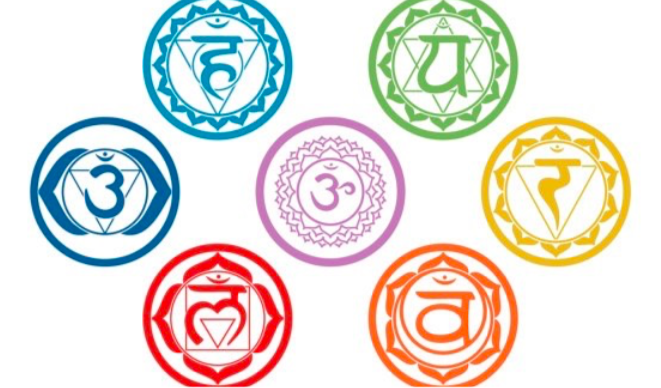 In yogic anatomy there is a subtle energetic system that correlates to our physical and emotional bodies. By directing attention and garnering a better understand- ing of each energy center we can take more skillful action and create literal shifts in our daily lives. Step onto your mat to explore the chakras, the yogic wheels of life, and discover what lurks in the depths of your internal landscape. Through this time you will:
Explore your foundation and stability

Employ the power of joyous fluidity.

Cultivate practices to awaken your personal power.

Open your radiant heart.

Tap into the courage of your inner voice and creativity.

Listen to your vital intuition.

Rest into the deep knowing of your interconnected nature.
*This workshop is a combination of discussion followed by an all level practice.
Ganesha is one of the most well known and most loved yogic symbols. The half- boy half-elephant character has rich mythology and iconography, and through his story we can better reflect on our own lives and step into greater participation with the waves of existence. In this exciting interactive tale you will:
Learn about Ganesha's creation myth and its symbolism.

Explore the various items he holds in his four hands and their meaning.

Reawaken your empowered nature to receive your gifts, choose your path, and flow with the grace of consciousness.

Understand the inner workings of mantra (potent syllables) to invoke the qualities of Ganesha in your own daily life.

Reclaim your ability to recognize this life as a gift and savor its richness.
*This workshop includes interactive discussion and some light movement.
More detailed information on these workshops available upon request. All workshops can be adjusted based on desired time frame.
Superfoods for Vitality

Intro to Ayurveda

Teachings of the Goddess (Durga, Saraswati, Lakshmi, Kali)

Tantric Meditation

Conscious Communication and Truthful Living

Deep Stretch: Open, Heal, and Relax
The Symbolism and Iconography of Shiva the Dancer

Advanced Breathing Techniques and Tantric Meditation

Creative Vinyasa Flow Methodology & Sequencing

Self-Discovery and Inner Transformation

Slow Flow: Do less, Receive more

Nutrition Revolution